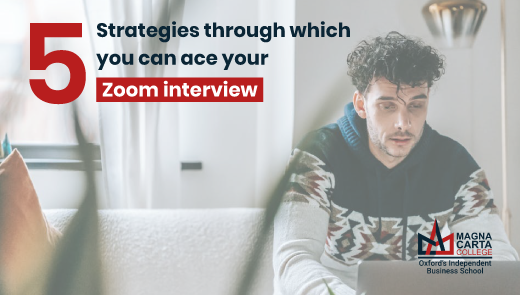 Ever since the sudden outbreak of Covid-19, the concept of interviewing candidates online has managed to gain wider importance. Today, Recruiters around the globe make use of different video conferencing applications at hand to interview suitable candidates. One similar application that has become a go to platform for conducting virtual interviews is learned to be Zoom.
However, preparing for a zoom interview can be quite a daunting task, especially if you're someone who has never given an interview online and aren't that technologically sound.
Our team at Magna Carta College has penned down 5 strategies you can use to ace your next zoom interview and bag the job of your dreams.
1: Research about the Organisation
It is true that employers are interested about knowing the skills and accomplishments of a candidate during an interview. But they are also keen in finding about what the candidate knows about the organisation they are applying at and how they shall be able to add in to its productivity in the long run. Therefore it is advised to always research about the organisation as it will give you a clearer idea of what the organisation does and whether you shall and have what it takes to bridge their inadequacies.
2: Choose a Quiet and Peaceful Space
If you're someone who lives or works in a busy environment, it is essential for you to find a quiet and peaceful space at your house or office. This will not only help you stay focused and attentive during the interview but will also leave a good impression on the employer as he/she will take you as a responsible candidate with a thoughtful mindset. Make sure the space chosen is well lit so that the employer wouldn't have to face any difficulty while evaluating you on the basis of your personality and behavior on camera.
3: Dress to Impress
Never shy away from dressing up for a zoom interview. Always make yourself appear presentable in front of the employer. Do not hesitate to put on your best attire as it will emphasize your competency and professionalism. Employers are always on the lookout for candidates who pay great attention towards their appearance as dressing up for an interview also signifies a candidate's self-worth and esteem.
4: Gaze in to the Camera
Candidates always make the mistake of looking at themselves on their laptop screen in spite of looking directly in to the camera. This gives off a very bad impression to employers who would instantly label the candidate to being uneasy and conscious. Don't give the employer an excuse for considering you unfit for the role. Create a balance between looking in to the camera and the employers so that you have an idea of how they are correspondingly responding to your answers during the interview.
5: Check all Equipment
Make sure you to check the functionality of all the equipment at hand while setting up for the interview. Your Wi-Fi connection, headphones, mic and laptop should be working just fine throughout the interview, as they collectively add to your over-all performance. Always keep a backup to avoid any inconvenience that could occur in case one of your equipment refuses to deliver.
Hopefully, this blog should be able to help you out in your job hunt and qualify you to land a position in the organisation of your dreams.
At Magna Carta College, we offer undergraduate and post graduate programmes in business studies to help students and professionals excel in their career. These programmes are designed to help them stay competent at their job and domain.
Click on the link to explore further: https://www.magnacartacollege.ac.uk/programmes/