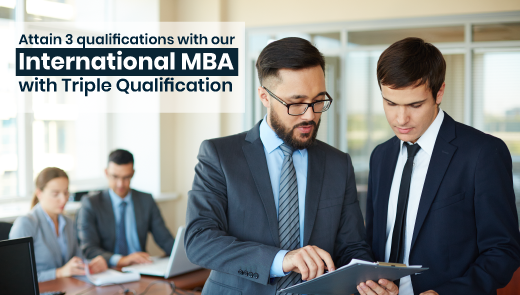 Let's start off with what an international MBA degree is.
One of the most sought after degrees in recent times is the Masters in Business Administration or MBA. It provides students with the necessary training to excel in their careers or to successfully grow their businesses. But the question arises, are these skills truly catering to the needs of an increasingly globalized world?
An International MBA not only provides the students with same knowledge and skills that they would receive from a traditional MBA, but also allows them to study the course in a diverse, multicultural environment. An international MBA program is an ideal way for entrepreneurs to learn about the world and expose themselves to different approaches of leadership.
Now why has the
Online
International MBA been gaining popularity in recent times?
According to Financial Times, a study was carried out at a London Institution in 2020 regarding the employer acceptance of online MBA as compared to traditional MBA. The consensus was that they would gladly accept an online MBA graduate and this acceptance was driven by three key factors.
Firstly, the same employers had successfully used online learning themselves or were currently enrolled in an online learning qualification. Secondly, a number of leading business schools have embraced online learning in recent years. Lastly, a number of recruiters themselves have used some form of online learning as part of their own qualifications.
According to the AACSB (Association to Advance Collegiate Schools of Business), an MBA provider accreditation body, the number of schools offering online MBA is increasing at an unprecedented rate. During the academic years 2014-2015, only 22 per cent of schools surveyed were offering an online MBA programme, but by 2019-2020 that number had risen to 39 per cent of schools.
This sharp rise in the demand for online MBA qualification can be accredited to both, technological advancement and COVID-19 pandemic. As there is no definite timeline to when countries will be opening their borders to international visitors or when universities will begin on campus classes, this provides a great opportunity for students and professionals alike who wish to attain an MBA but have professional commitments.
At Magna Carta College, we offer the
International MBA
qualification which leads to three UK recognized qualifications;
Pearson BTEC Level 7 Diploma in Strategic Management and Leadership,
Chartered Manager Status from the UK's much revered Chartered Management Institute (CMI) on the basis of Level 7 Diploma qualification,
MBA (top up) through the advanced entry, as a Level 7 Diploma holder, with Buckinghamshire New University.
The programme is especially designed for transforming middle to senior tier managers to future organisational leaders. This programme focuses on fostering resilient, sustainable organisational trailblazers within a globally connected commercial context.
For more information, you can visit the course page:
https://www.magnacartacollege.ac.uk/international-mba/